One 15- to 30-minute intravenous (IV) infusion provides a full course of antiviral influenza treatment1
Use these dosing guidelines to determine the dosage of Rapivab® (peramivir injection) for your patients 2 years of age and older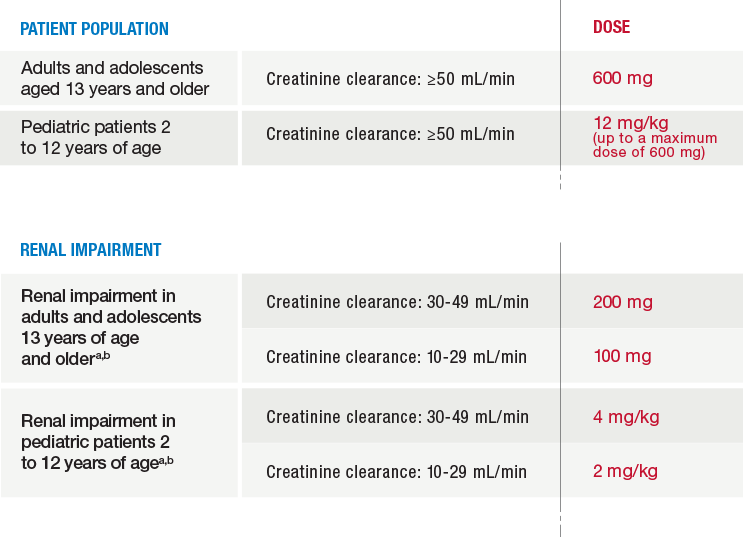 aIn patients with chronic renal impairment maintained on hemodialysis, Rapivab should be administered after dialysis at a dose adjusted based on renal function.1
bCalculated using the Cockcroft and Gault equation.
The administration of Rapivab in patients with renal impairment is at the discretion of the treating physician.
Preparation of Rapivab for IV infusion
Use aseptic technique during the preparation of Rapivab to prevent inadvertent microbial contamination. There is no preservative or bacteriostatic agent present in the solution.1
Follow the steps below to prepare a diluted solution of Rapivab1:
1. Do not use if seal over bottle opening is broken or missing.
2. Visually inspect Rapivab for particulate matter and discoloration prior to administration.
3. Dilute an appropriate dose of Rapivab 10 mg/mL solution in 0.9% or 0.45% sodium chloride, 5% dextrose, or lactated Ringer's to a maximum volume of 100 mL.
4. Administer the diluted solution via intravenous infusion for 15 to 30 minutes.
5. Discard any unused diluted solution of Rapivab after 24 hours.
Once a diluted solution of Rapivab has been prepared, administer immediately or store under refrigerated conditions (2°-8°C or 36°-46°F) for up to 24 hours. If refrigerated, allow the diluted solution of Rapivab to reach room temperature, then administer immediately.
Do not use if seal over bottle opening is broken or missing.
Reference: 1. Rapivab [package insert]. Durham, NC: BioCryst Pharmaceuticals, Inc; 2020.