Antiviral treatment is underutilized for influenza
Patients who could benefit from the treatment of influenza may not be getting treatment that could help.
A recent survey among adults diagnosed with influenza-like illness in the United States showed that the majority of patients reported not receiving treatment for influenza, despite CDC and Infectious Diseases Society of America (IDSA) recommendations.1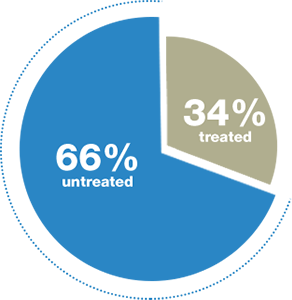 Studies show that antiviral influenza treatment can shorten disease duration and severity of symptoms in patients.
2
Despite the availability

of antiviral therapies to

treat the flu, only

56% of children

5-11 years of age and

46% of children

12-17 years of age

with influenza-like illness

sought health care.1
A survey of more than 75,000 adults in the United States was conducted by Biggerstaff M et al. Results published in the Journal of Infectious Diseases in 2014.1
Food and Drug Administration (FDA)–approved neuraminidase inhibitors
Several types of therapies are approved for the treatment of influenza. The neuraminidase inhibitors offer different methods of administration and varying indications for use.3

Peramivir
4
Single 15- to 30-minute
intravenous (IV) infusion

Oseltamivir phosphate
5
5-day oral
capsule (twice daily)

Zanamivir
6
5-day oral
inhalation (twice daily)
The neuraminidase inhibitors include oseltamivir, zanamivir, and peramivir, which are active against both influenza A and B.2,4
The optimal benefit of antiviral influenza treatments occurs when they are administered within the first 48 hours of symptoms.2
Each neuraminidase inhibitor has a different route of administration: IV, oral, or inhalation. They also have varying treatment times.3
Treatment with neuraminidase inhibitors has been shown to have clinical and public health benefits in reducing illness and severe outcomes of influenza.7
Using patient characteristics to guide treatment selection
When choosing an influenza treatment, there are some important patient characteristics to consider before deciding on a treatment approach.
Oral therapy may not be appropriate for patients who:

Present with flu-associated gastrointestinal (GI) issues such as nausea, vomiting, or diarrhea8,9

Have difficulty swallowing or tolerating oral medication (e.g., children or those with dysphagia)10
In the United States, dysphagia affects 300,000 to 600,000 persons yearly, and estimates suggest it affects 15% of the elderly population.11
Inhaled antiviral flu therapy is not recommended for certain populations
6

:
Patients with underlying airway disease (e.g., asthma or COPD) due to serious risk of brochospasm6

Patients with allergies to milk proteins6
Asthma and COPD may preclude more than
25 million and almost 16 million people,
respectively, from treatment with inhaled antiviral
influenza therapy.12,13
Lactose is used as a delivery agent in the inhaled
antiviral treatment delivery device.6
References: 1. Biggerstaff M, Jhung MA, Reed C, Fry AM, Balluz L, Finelli L. Influenza-like illness, the time to seek healthcare, and influenza antiviral receipt during the 2010-2011 influenza season—United States. J Infect Dis. 2014;210(4):535-544. 2. Clark NM, Lynch JP III. Influenza: epidemiology, clinical features, therapy, and prevention. Semin Respir Crit Care Med. 2011;32(4):373-392. 3. What you should know about influenza (flu) antiviral drugs. Centers for Disease Control and Prevention website. https://www.cdc.gov/flu/pdf/freeresources/updated/antiviral-factsheet-updated.pdf. Updated November 22, 2016. Accessed April 18, 2017. 4. Rapivab [package insert]. Summit, NJ: Seqirus USA Inc; 2018. 5. Tamiflu [package insert]. South San Francisco, CA: Genentech, Inc.; 2018. 6. Relenza [package insert]. Research Triangle Park, NC: GlaxoSmithKline; 2018. 7. CDC health update regarding treatment of patients with influenza with antiviral medications. http://emergency.cdc.gov/han/han00375.asp. Updated January 9, 2015. Accessed October 17, 2016. 8. Dawood FS, Jain S, Finnelli L, et al; Novel Swine-Origin Influenza A (H1N1) Virus Investigation Team. Emergence of a novel swine-origin influenza A (H1N1) virus in humans. N Engl J Med. 2009;360(25):2605-2615. 9. Hueston WJ, Casey BR. Respiratory problems. In: South-Paul JE, Matheny SC, Lewis EL, eds. CURRENT Diagnosis & Treatment in Family Medicine. 3rd ed. New York, NY: McGraw-Hill; 2011. http://accessmedicine.mhmedical.com/content.aspx?bookid=377&sectionid=40349419. Accessed January 28, 2017. 10. Wright D, Tomlin S. How to help if a patient can't swallow. Pharm J. 2011;286:271-274. http://www.pharmaceutical-journal.com/files/rps-pjonline/pdf/PJ050311_271-274.pdf. Published March 5, 2011. Accessed December 12, 2016. 11. Sura L, Madhavan A, Carnaby G, Crary MA. Dysphagia in the elderly: management and nutritional considerations. Clin Interv Aging. 2012;7:287-298. 12. Asthma. Centers for Disease Control and Prevention website. https://www.cdc.gov/nchs/fastats/asthma.htm. Updated March 31, 2017. Accessed October 10, 2017. 13. Chronic obstructive pulmonary disease (COPD). Centers for Disease Control and Prevention website. https://www.cdc.gov/copd/index.html. Updated August 4, 2017. Accessed October 10, 2017.