Influenza is a significant burden for patients and health care professionals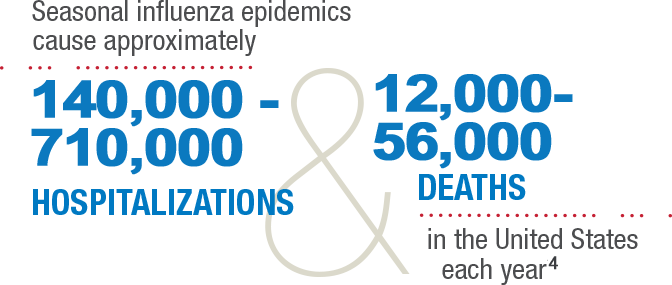 Do you see at-risk patients?
These populations can be at risk for complications from influenza
2,a

:

Adults 65 years
and older

Adults with
concurrent illness

Patients with
weakened immune system
aThe populations noted here are found in the general public and recognized by the CDC. Rapivab is indicated for adults aged 18+.
No substantive data exist on the use of Rapivab in adults with concurrent illness or with weakened immune system.
Many conditions can increase the risk of serious complications
4
The CDC has identified these concomitant conditions that may put patients at greater risk of complications from influenza.
Asthma

Chronic lung disease

(e.g., chronic obstructive pulmonary disease (COPD), cystic fibrosis)

Heart disease

(e.g., congenital heart disease, congestive heart failure, coronary heart disease)

Endocrine disorders

(e.g., diabetes mellitus)

Metabolic disorders

(e.g., inherited metabolic disorders, mitochondrial disorders)

Kidney disorders

(e.g., chronic kidney disease, moderate to severe renal disease)5

Liver disorders

(e.g., hepatitis, chronic liver disease, cirrhosis)5

Neurological and neurodevelopmental conditions

(e.g., cerebral palsy, epilepsy, stroke, intellectual disability, moderate to severe developmental delay, muscular dystrophy, or spinal cord injury)

Extreme obesity

(with a body mass index of 40 or higher)

Blood disorders

(e.g., sickle cell disease)
CDC recommendations — treat early and quickly
The CDC has issued recommendations for the treatment of patients with influenza:
Clinical benefit is greatest when antiviral influenza treatment is administered early, especially within 48 hours of influenza illness onset.6
When indicated, antiviral influenza treatment should be started as soon as possible after illness onset and should not be delayed even for a few hours to wait for the results of testing.6
Initiate antiviral influenza treatment in patients with risk factors for influenza complications, such as asthma and heart disease.7
References: 1. McLaughlin MM, Skoglund EW, Ison MG. Peramivir: an intravenous neuraminidase inhibitor. Expert Opin Pharmacother. 2015;16(12):1889-1900. 2. Clark NM, Lynch JP III. Influenza: epidemiology, clinical features, therapy, and prevention. Semin Respir Crit Care Med. 2011;32(4):373-392. 3. People at high risk of developing flu-related complications. Centers for Disease Control and Prevention website. https://www.cdc.gov/flu/about/disease/high_risk.htm. Updated August 25, 2016. Accessed February 1, 2017. 4. Annunziata K, Rak A, Buono HD, DiBonaventura M, Krishnarajah G, Xu J. Vaccination rates among the general adult population and high-risk groups in the United States. PLoS One. 2012;7(11):1-9. 5. CDC health update regarding treatment of patients with influenza with antiviral medications. http://emergency.cdc.gov/han/han00375.asp. Updated January 9, 2015. Accessed October 5, 2015. 6. What you should know about influenza (flu) antiviral drugs. Centers for Disease Control and Prevention website. http://www.cdc.gov/flu/pdf/freeresources/updated/antiviral_factsheet1112_9-24.pdf. Updated August 16, 2016. Accessed September 16, 2016.